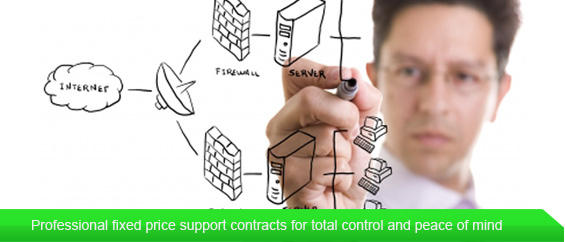 Blackberry
Love them or loathe them Blackberry is very much part of the 21st Century landscape. They can provide live access to your Calendar, Contacts and Folders as you would see them in your email. With no need to connect the phone to your PC you can file emails and send out meeting requests. A new comer to the field is the iPhone which is proving increasingly popular; it has limitations in a business environment however some people will not be parted with their ubiquitous iPhone.
Internet
We all agree that the internet is truly amazing! It has changed the way we work and search for information beyond all recognition. However like mobile phones, we have become very reliant on it and internet connections can be slow and temperamental. With bandwidth becoming cheaper and cheaper a fast internet connection (even up to 24 Mb) is not uncommon, some companies even employ a small back up line that takes over should your primary internet connection fail. At ITSN we can handle this for you and swiftly pick you up and put you somewhere you have light speed internet.
How fast is your internet? Click here to find out: http://www.speedtest.net/
Multi-Sites
WAN – Wide Area Network. Your business may have a number of sites that need to be connected in order to share data and valuable information. They may be small satellite offices or large main offices. Either way IT Support Now can configure and install a Wide Area Network which will allow you to share all your data in a fast, efficient and secure method.
Citrix
Citrix is an application that will give you your desktop anywhere you have an internet connection. Some clients will only use Citrix even in the office as they have their servers in a secure data centre somewhere else. This is particularly useful if you have many sites that constantly need to share data or many people working away from the office. It is a well known technology employed by many of the largest companies in the world and is now available to SMEs.
Apple MAC
A number of companies and individuals use MACs for both graphic design work, music and general day-to-day functions. ITSN are fully conversant with MAC hardware and software, we have been supporting MACs for a number of years. If you use MACs rest assured we will be able to handle the support and configuration for them.
Hardware
Do you know exactly what hardware, make and models you have on site? More importantly does your insurance company? Part of our Standard Package is to complete a FREE full hardware and software audit on you network as soon as you become a client. We will then conduct this audit on a regular basis so that your asset register is always accurate and up to date.
IT Support Now are able to source and supply, install and configure best of breed hardware devices at highly competitive prices. We will offer you a fully installed, configured and working on the desk price. No hidden extras, No Surprises.
Disaster Recovery
What would happen if, there was a fire, you could not access your building, the power was out at your main site, your ISP stopped working for a few days/weeks? How would you fair?
Recent industry surveys have shown:
97 percent of organisations in the UK would be unable to continue with business as normal following a data centre fire, despite having disaster recovery plans in place.

Just 3 percent say they could carry on with business as usual after such a fire

Just 17 percent could achieve a skeletal service within 3.23 days
SECURITY
Why and Who
Your systems security is more than just preventing hacking from people on the outside world. Included with in security are viruses, spam, spoofing and data loss. Very often the outside world is not your greatest threat, most data theft takes place internally, from disgruntled employees to people leaving to start up their own business.
Viruses don't always just simply lead to a slower computer. Some viruses can be quite viscous and potentially embarrassing. For example, some viruses will just pick a random email from your sent items and send it to everyone in your address book. Do you get a report on the state of your anti-virus system every week from your IT company? When was the anti-virus on your PC last updated? Double Click on it and find out.
Firewalls
Firewalls – every company no matter how small should have a dedicated firewall device. It is not a great idea to have the firewall on your router or server. A firewall is simply a device, it doesn't guarantee you have great protection, it depends on how well it has been configured and what has been blocked and how. The difference is that a clever kid in Amsterdam could breach a software firewall or a badly configured hardware firewall, however, it would really take a top level gifted expert to attempt to crack a well configured hardware firewall. It is a delicate line to walk between paranoia and a secure network, we will help you to walk the line and sleep well knowing everything is how it should be.